In 2017, Federation of Hungarian Printers and Paper Makers awarded one of the most prestigious domestic professional recognitions to two colleagues of ANY Security Printing Company PLC. Mária Klára Kiss and Géza Imre received Hess András prize at the 45th General Meeting of the Federation, in Nyíregyháza, on May 25.
Mária Klára Kiss, whom everybody calls Mara in the Printing Company, performed student work in our Company during her college years. In 1996, after finishing her studies at Technical College for Light Industries, she became an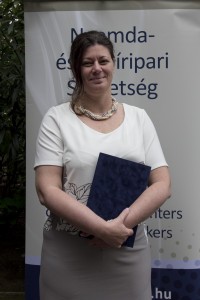 employee of ANY Security Printing Company. She began to work in the material management department, and then she worked as a works manager in the digital printing plant. At present she works as a production preparation manager and provides for the production start of new and iterative jobs.
Over the years passed since then she has gained wide-ranging experience in different technologies of the printing industry, which she applies to everyday use, for organizing efficient productions. In the Printing Company's life new tasks are common, and she creatively participates in their implementation. She excellently organizes the work processes even for the most complex jobs. She quickly and efficiently manages the occurring difficulties, and she trains new colleagues for the complicated job processes of the Printing Company with great pleasure and professionalism.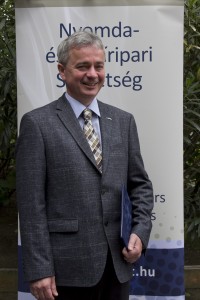 Géza Imre began his research and development activity related to document security in Expert Institute of National Security Special Service, where from the 1990's he had played a significant role in the development of security system for the new generation of printing products in frame of the Hungarian document and banknote reform. His main research area is related to the application of photoluminescence as a physical phenomenon for the purpose of document security.
In 1998 he was employed in ANY Security Printing Company, where he effectively utilized and developed his acquired knowledge in design and production of the security printing products manufactured by the Printing Company. During his R&D activity, he has had a prominent role in the development of numerous high value, so-called security printing ink systems and other paper security solutions. He has provided information on his results achieved in this subject in a number of domestic and international conferences and exhibitions. Nowadays Géza Imre, both nationally and internationally, is a recognized authority on document security.
Wishing them many more successful years, our heartiest congratulations to both of them!
Management and colleagues of ANY Security Printing Company PLC