"Green" passport against the pandemic
Our company had the opportunity to design, develop, and create an Immunity certificate solution for Hungary.
Since the beginning of the pandemic and mainly with the start of extensive vaccination, many countries are suggesting some kind of supporting document that enables people who have recovered from COVID-19 and have antibodies or who are already vaccinated to return to their normal life and to their everyday activities.
As everyone has the same right to this document once recovered from the infection or being vaccinated, all relevant information must be available and the immunity pass must be verifiable in any situation regardless of the technology currently available.
That is why we offer physical and digital solution at the same time, in accordance with WHO and EU guidelines.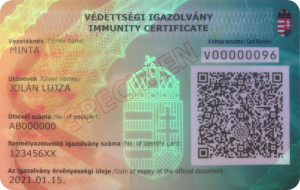 ANY's ImmPass® and ID&Trust's solution allows governments to issue vaccination, immunity and test certificates while keeping sensitive medical data safe.
We offer a total authenticating system, ensuring the people the freedom of free movement, given the preconditions are set, while helping to keep the economy running.
it is a quickly implementable end-to-end vaccine certificate management solution

secure and scalable to easily issue and distribute vaccination certificates and to check their authenticity without any physical contact

ANY & ID&Trust provide end-to-end solution
covers the entire lifecycle of certificates

secure physical card and digital certificate

easily adaptable to WHO, ICAO and EU guidelines and standards

flexibly tailored to unique requirements of governments