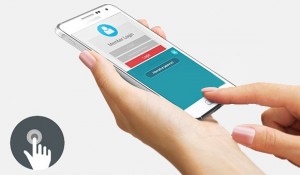 Simultaneously with the appearance of Galaxy S6, Samsung is going to present a completely new payment system in which his partners will be VISA and LoopPay. LoopPay is the first mobile wallet solution of the world using the so-called Magnetic Secure Transmission (MST) technology. The essence while also the advantage of MST lies in the fact that it works not only in contactless terminals but it is able to manage the magnetic card. The disadvantage of MST is that a special card is required for using it, which can be placed even in the phones. This outstanding collaboration ensures that the contactless payment will be used in a much easier and safer way as never before.
It is also known, that the new device will be equipped with an updated fingerprint reader instead of the previous finger swipe system which was a less effective solution, and it will get a contact-based reader to considerably facilitate the use. The new sensor can be found in Home button as usual. Previous functions such as phone release, login to websites, release of private mode, login of Samsung users profile and payment by PayPal, remain available using this contact fingerprint reader. It is especially beneficial for those who have not used their Samsung phones due to the difficult operation of this function. It may also be good news for the persons using the rapidly expanding electronic payment on a daily basis, since the improvement of this function offers speed and ease of the payment at the same time.
This innovation was already necessary for Samsung, because a lot of people have criticized their fingerprint reader that was slow and difficult to operate, and in addition, they have to keep up with Touch ID of Apple having touch-based operation since September 2013 when Iphone 5s appeared in the market.
Unfortunately, besides guessing, no more information is known on Galaxy S6 innovations and the operation of the new payment system, however, it can be good news for those who have had difficulties with the daily use of the latest fingerprint reader. One has to wait until 1st March when the details of payment system will be announced on the day of the premiere of Galaxy S6.