Protecting our environment is perhaps one of our most important common interests. The range of "green" solutions in our everyday activities is widening day by day, and we are constantly focusing on eco-practices in our households. Therefore, it is no coincidence that environmental awareness is fundamentally required in various industries.
Looking at international markets, we see that in recent years, the development teams of card manufacturers have also been working hard to find ways to produce environmentally friendly products and materials of which's carbon footprint can be reduced significantly. There are cards made from plastic that used to float in the ocean, cards made from wood and corn, degradable cards made with special additives, and there are even companies that try to promote sustainability by planting a tree somewhere in the world for every first card use.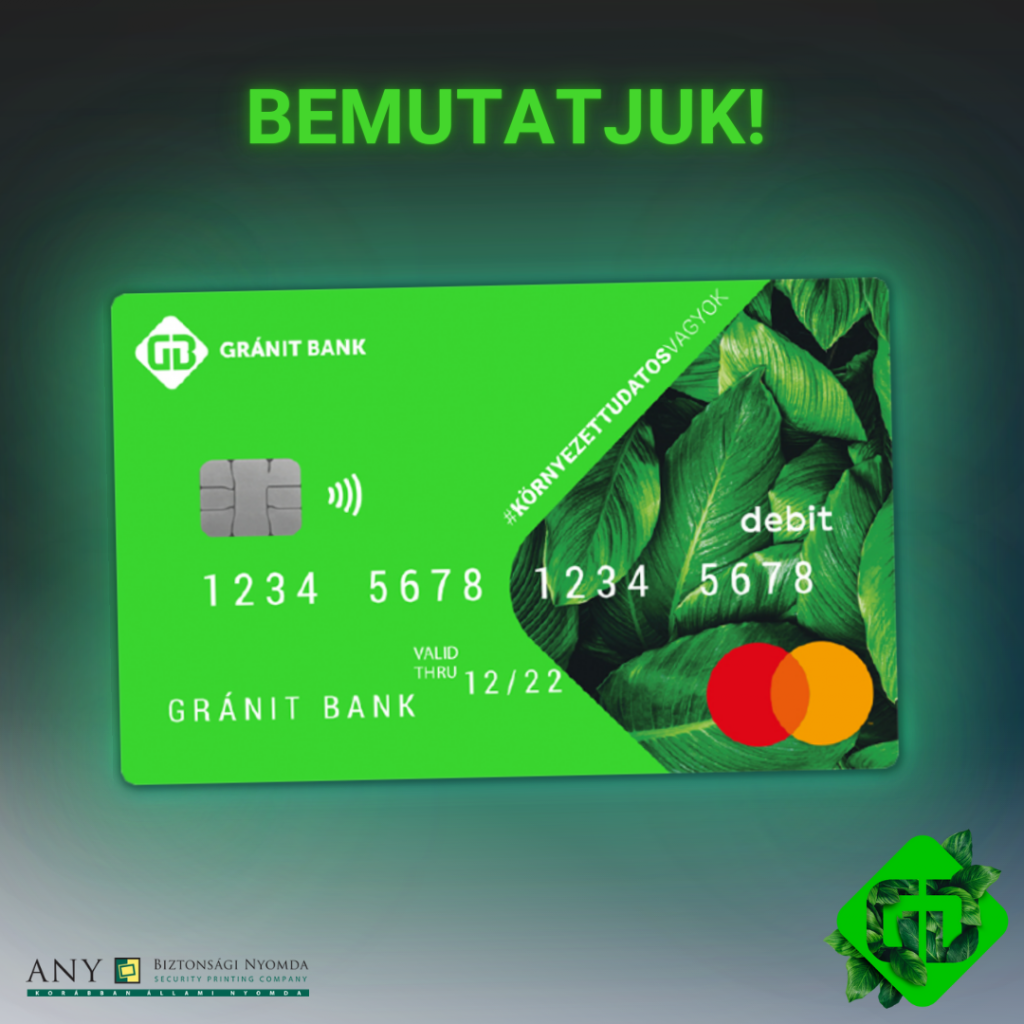 Of course, it is not enough for a bankcard to be functional, durable, aesthetically pleasing and now sustainable – it also needs to meet strict international standards. Our development team's 20 years of expertise in card design, production and personalisation is constantly challenged by the changing world. We are working on innovative solutions to bring the most sustainable innovations to the security printing market. As a first step towards this, we are pleased to present ANY ECOcard. MasterCard also granted the manufacturing licence to our environmentally friendly product, made from fast-degrading raw materials. The material's property is that in a microbial-rich environment the degradation of plastic is accelerated, so that under appropriate waste management and composting conditions, PVC will start to degrade within 60 days. The cards are unique in that they offer the same customer experience as their traditional counterparts, while contributing to sustainable development. It is no wonder that our brand new innovation caught the attention of our key partner Gránit Bank, so we produced our first eco-friendly bankcards for them. The plastic cards are accompanied by other "green" alternatives, as they are delivered to the Bank's customers in letters and envelopes made from recycled paper. We hope that the results of our joint efforts will make it easier for as many satisfied users as possible to make purchases in their everyday lives.
The journey to protect Earth started a long time ago, and ANY, certified as a Green Printing Company for the eleventh time this year, aims to contribute to the success of nature-friendly developments. The next step in this effort is the innovation of recycled PVC cards, still in product development status, which we plan to make part of our Company's portfolio in the long term.