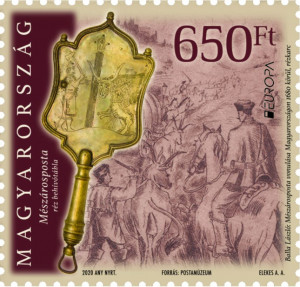 Members of the Association of European Postal Operators (PostEurop) each year issue stamps on a common theme to present the identical values of the member states. The 'EUROPA' stamp is still the most popular theme for the collectors, and issues with the official logo are among the most sought-after stamp novelties.
In 2020 the member states are depicting the theme of ancient postal routes. Hungarian Post Ltd. also participates in the stamp's beauty contest with one stamp denomination of the miniature stamp sheet consisting of 2×2 stamps released in the topic, produced by ANY Security Printing Company PLC in 20,000 copies and designed by the graphic artist Attila André ELEKES.
You can read detailed information about the miniature stamp sheet that contains the nominated stamp on the link below:
https://eshop.posta.hu/storefront/en/stamps/stamps/europa2020-ancient-postal-routes/prod2020150040011.html
Every vote counts!
An online public vote will decide which post's Europa stamp is the most beautiful again this year.  You can vote on the website of the Association of European Postal Operators (PostEurop): www.posteurop.org/europa2020, by entering a name, e-mail address, country, and marking the stamp (Hungary), and by clicking on the VOTE button at the bottom of the page. Just a few minutes and some clicks! You can vote once with an e-mail address. The vote runs from 9th May to 9th September.
Thank you for the votes and shares!