We are very proud that in the last few months Magyar Posta Ltd. won several international awards and recognitions for the philatelic specialties produced by ANY Security Printing Company PLC.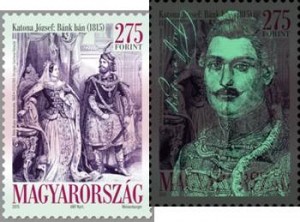 Stamp "József Katona wrote his drama Bánk bán 200 years ago" produced by ANY Security Printing Company won the prestigious 3rd place at the stamp beauty competition WIPA Grand Prix at the beginning of July.
The first WIPA (Wiener Internationale Postwertzeichen Ausstellung) Grand Prix was announced in relation to the World Stamps Exhibition organized in Vienna in 1981, and it has been repeated year by year. Hungarian stamps have already finished several times in the first three places: in 1986, 2012, 2013 and 2014.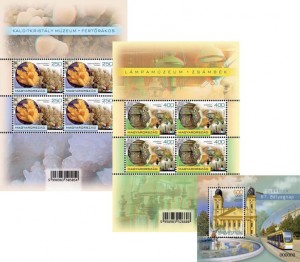 With its exhibition material presenting the Hungarian stamps and their specialties, Magyar Posta Ltd. also took part in the international competition class exhibition organized between the end of May and the beginning of June within the International Stamps Exhibition NEW YORK 2016. The exhibition material of Magyar Posta Ltd. won the silver medal in its category. It presented a selection of the Hungarian postage stamps issued between 2013-2015, including, among others, the Debrecen stamp block decorated with polished mountain crystal, produced by ANY Security Printing Company PLC, and the Hungarian Quality Product Award winning, three dimensional stamp miniature sheets depicting the treasures of Lamp Museum and Calcite Crystal Museum which could be viewed by the visitors wearing special glasses.
Photos: www.posta.hu