ANY Security Printing Company operates in compliance with numerous domestic and international standards. Over the past few years our products manufactured by us on high level and in outstanding quality have performed on the podium, received prestigious prizes and recognitions both in domestic and in international professional competitions.
We would not be able to achieve our domestic and international successes without our loyal colleagues excellently performing in their specific areas. Only in the past 10 years more than sixty persons were given Life Achievement Awards by the company on the occasion of their retirement, for their loyalty and the 40 years they spent in the company. In ANY Group, the Hungarian printing profession's highest civil recognition that is the Life Achievement Award for the Hungarian Printing Industry founded in 2000 by the Association of Printing and Paper Industry has already been received by György Gyergyák, Board Member and former CEO of ANY Security Printing Company, by Lajos Papp, CEO of Gyomai Kner Printing Company, and on 7th October 2016 by Dr. Erzsébet Novotny, CEO of Specimen Zrt. and Key-Account Manager of ANY Security Printing Company. Since 2007 Federation of Hungarian Printers and Paper Makers has awarded 'Hess András' Prize to employees in the printing industry who have contributed to successful operation of their company with their outstanding work. Since the foundation of the prize, 9 of our colleagues have received this honorable prize; the most recent recipient of the prize is Gyula Grantner, Team Leader in Card Body Production of ANY Security Printing Company PLC.
Dr. Erzsébet Novotny has received the Life Achievement Award for the Hungarian Printing Industry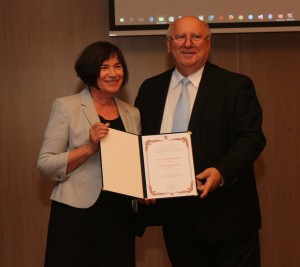 In 2016, Erzsébet Novotny, Dr. Habilis, printing engineer, applied mathematician, honorary associate professor, received the Life Achievement Award for the Hungarian Printing Industry, in recognition of her successful and productive professional career.
Originally she was qualified as a typesetter. She took her first diploma in form making at the Technical College for Light Industries, and then she graduated in applied mathematics from the Faculty of Social Sciences at Eötvös Loránd University (ELTE TTK).
In 2006 she took her PhD degree in the School of PhD Studies 'Multidisciplinary Arts, Industrial and Economic History' at Budapest University of Technology and Economics. She habilitated in the discipline of 'Materials Science and Technology' at the University of West Hungary in 2015.
She is a frequent participant in the international scientific conferences. More than forty of her publications are recorded by the Repository of Hungarian Scientific Works, the majority of which is in foreign languages. She is a worthy international representative of the scientific and professional life of the Hungarian printing industry.
Her first working place was Globus Printing Company, where she worked between 1977 and 1984. Then she was asked to be the employee of State Printing Company (the former name of ANY PLC) where she has been working since then, now in a Key-Account Manager position. In the meantime she was appointed as the CEO of Specimen Zrt. which represents a special business line of ANY PLC.
Her professional activity is innovative and outstanding especially in the production area of stamps and security printing products, but their significant portion is not published due to their specific nature.
She has been providing assistance in the high degree education of specialists for the printing industry as a tutor and a consultant for 20 years. On the other hand, she has been giving lectures in the Institute of Media Technology and Light Industry of Óbuda University as a guest lecturer since 2009 and as an honorary associate professor since 2012. Her knowledge and helpfulness is highly appreciated by her students, her Student Referral Index is among the highest ones.
She represents the Technical Association of Hungarian Paper and Printing Industry (PNYME) in the international organization of printing industry 'InPEQ Forum' (Ex Balkan Print Forum). She had a significant role in preparing the forum which was organized in Budapest in 2010 and the IARIGAI conference held in 2011.
Among her additional social positions, she is also the member of the Hungarian Philatelic Scientific Society (Mafitt), the Artistic Advisory Committee of the Hungarian Post, as well as the Board of Trustees of Gervay Mihály Postal History Foundation.
She is the Vice President of the Technical Association of Hungarian Paper and Printing Industry.
She performs all of her functions and duties with an outstanding preparedness, great devotion and with due professional humility. She is deservedly among the best.
Congratulations on her award, wishing her every success for her future work.