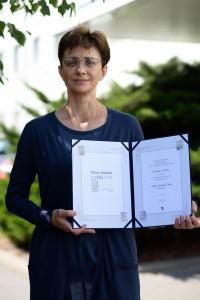 In 2018 the Hungarian Association of Printing and Paper Industry awarded one of the greatest domestic professional recognitions to Anna Kerekes, the employee of ANY Security Printing Company PLC.
Anna began to work in the State Printing Company on 5th May 1997 as development and market research staff member, then she worked as the head of Documents of Value and Color Press business line, and since 2000 she has been managing the Tender Office.
In our Corporation she made good use of her experiences she had previously obtained in the printing industry and as works manager; she "tasted" the tasks of quality management and making calculations, and then she further extended her professional skill in the field of tender preparation. For compilation of the tender materials she has an up-to-date knowledge of the public procurement procedures as well as the printing industry including special technologies of the security printing. Many people can take an example of her and her discipline, professional knowledge, fastidiousness and ability to partake both in an unsuccess and in the successes.
In her spare time she, together with her husband, cares for the family heritage of the blue-dye workshop in Bácsalmás, and as it is said: she was dazzled by the fragrance of the printing press and ink forever.
We cordially congratulate Anna, wishing her many more successful years to come.