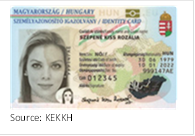 The new electronic ID cards were launched on 1st January, 2016 in Hungary. The cards are supplied by the consortium led by ANY Security Printing Company.
The contactless chip cards, which include fingerprint as well, have been renewed not only by their security solutions, but they are applicable for numerous electronic functions as well: they can be used for electronic signature on e-government services, for tax and social insurance and as ePasses. The new documents were issued in less than seven months; nowhere in the world has been made such a document with such strict security functions in such a short time. The new identity cards are protected by 16 security elements, including Braille feature, transparent hologram, security background, MLI feature, laser engraved document number, metallic hologram, OVI feature and 2D barcode.
Since the beginning of the Hungarian document reform, ANY Security Printing Company PLC has been participating in production and personalisation of domestic documents, including electronic passports as well. Besides production of Hungarian documents, the Company prints Icelandic and Albanian driving licences, too.