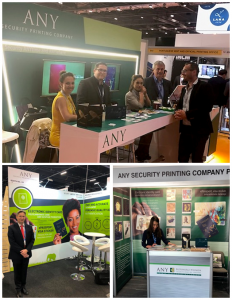 … in fact, we launched this summer with three international exhibitions, travelling all over the world. The first event, precisely Identity Week, took place on the 11th and 13th of June in London. In the capital of the island state, ANY Security Printing Company was represented by a group of 7.
Africa was once again an important target in the middle of June, as the fifth ID4Africa chose Johannesburg as its venue between the 18th and 20th of June. At Africa's most significant identification and document security-themed annual meeting, László Balla, Deputy Chief Executive Officer represented the Company, joint by ARH at their common booth. ARH is known by the development and production of such documentchecker and control devices and systems, which are suitable for the verification of any document made by our Company. As the two companies' activitites complete one another conveniently, we were able to demonstrate our solutions very specifically and rather efficiently.
Finally, the fifteenth ICAO TRIP Symposium and Exhibition opened its gate for the interested visitors, between the 25th and 28th of June in Montreal. The occasion provided a forum not only for the decision-makers of specific countries, but also for associations dealing with world class travel documents and their related verification systems. Our Company took part in exhibiting as well. This year, Brigitta Jenei, International Sales Manager demonstrated our sample products at ANY's very own booth.