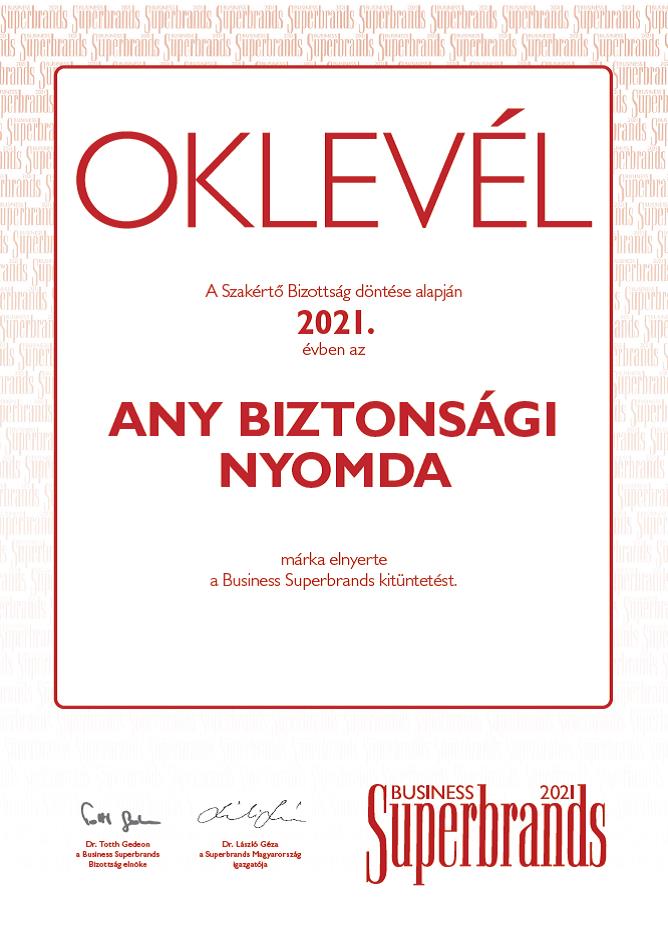 ANY Security Printing Company has won the Business Superbrands award, based on the decision of the committee of leading professionals.
The award was first presented in 1995 in the United Kingdom to recognise the most outstanding consumer brands. It is awarded to companies that have demonstrated their success in the market and their ability to maintain the quality of their products. Now present in more than 90 countries around the world, the award brings the best brands and the people behind them to the attention of consumers by selecting the best companies and their excellent products each year.
Companies that do not deal directly with consumers but engage in business-to-business trade are rewarded with the Business Superbrands Award, established in 2000. The Superbrands programme has been present in Hungary since 2004, and the Business Superbrands program since 2007.
How is a company selected?
Basically, in both the business and consumer sectors, the selection of a brand consists of the same steps. The companies' performance, results are evaluated as well as their business and financial reliability, stability, and their online and offline marketing activities are also analysed. From the shortlisted brands in each category, the winners are finally selected by the Board of Experts. What matters is the tradition, reputation, current market presence, ethical judgment, social responsibility, innovation activity, and brand strategy of the given brand.
Our company is proud to hold the 2021 Business Superbrands certificate, awarded for its pursuit of all these values listed above, its global reputation, decades – if not centuries – of tradition, and reliable and high-quality products that are constantly being evolved. The key to ANY's success is its team of more than 1,000 experts and dedicated employees.