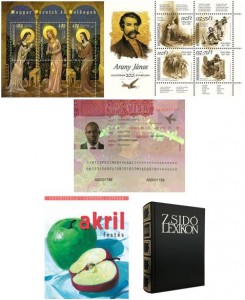 ANY Security Printing Company Group this year again achieved remarkable results at the Best Print Hungary 2018 Professional Print Competition announced by the Hungarian Association of Paper and Printing Industry.
ANY Security Printing Company PLC has won a gold level award in the category 'Stamp, paper-based securities or other security product, security packaging material' for the Hungarian Saints and Blesseds miniature stamp sheet collection produced by ANY PLC to the Hungarian Post. In addition to the already issued standard edition, the miniature sheet Hungarian Saints and Blesseds V, presenting Saint Margaret, Saint Kinga and the Blessed Yolanda, was also released in a special numbered edition decorated with gold foil and embossing, and as a numbered limited edition black print. The chosen method of depiction as well as the use of embossing and the gold foil printing technique emphasize and highlight the shining of the halo around the Saints.
ANY PLC was also awarded a bronze level recognition in the same category for the 'For Youth 2017: János Arany was born 200 years ago' miniature stamp sheet product. The four-stamp miniature sheet was produced in 30,000 copies by ANY Security Printing Company.
ANY's own visa sample was given a silver level award in the category 'Special design edition' by the professional jury. The visa sample printed on optical brightener-free security paper with self-adhesive layer far exceeds ICAO 9303 (MRV) Standard requirements in terms of security elements. It includes a number of first-level security features (hologram, optically variable prints, security scoring) that require no device for checking. To check the second and third level security features (e.g.: graphics printed by fluorescent and IR inks) we offer using our self-developed handheld verification devices.
Gyomai Kner Printing Company Ltd, member of ANY Group, also collected two awards. They were given a bronze level award in the category 'Multicolor paperbound book' for the book entitled Acrylic painting. This book was published in 7,500 copies by Kossuth Publishing Corporation, using two book binding types. The jury's special prize was given to Gyomai Kner Printing Company for the Jewish Encyclopedia. One of the attractions of this encyclopedia is that the original edition was published in 1929. The reprint edition was published in 1987 and distributed in the United States and Western Europe, and only 150 copies were placed on the Hungarian market.  The supplemental duplicate edition was republished by Gyomai Kner Printing Company Ltd and Láng Publishing Company in September 2017 for the Jewish New Year. 60 of the republished 500 copies were produced, using goatskin for book covers, with gold foil printing and decorative boxes.