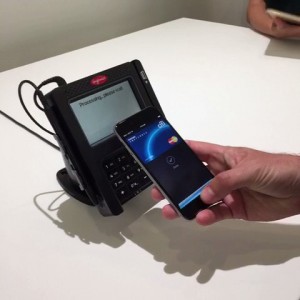 According to Gartner's forecasts mobile payment market will increase more than threefold in the next 3 years. It may reach 720 billion USD by 2017, but still it is not clear what shares and by whom will be taken home, because all market players are in their infancy. Along with the largest ones, additional organizations are also taking part in the fight, among others banks with their own applications, mobile wallet associations with the participation of local service providers, or major brands, such as Swatch with its smart watches.
At present Apple Pay is the strongest in the field of marketing and it has also in time preceded the competitors due to its market entry, but users of android operation system are still in majority. The question is how much the users will be ready to use the newly appearing mobile payment applications.
Number of the commercial sites accepting Apple Pay has increased by almost 500 000 over the last 5 months; it has reached 700 000 in March. As of 2015 July it will be available in the United Kingdom, too. Since contactless payment is already very popular within the island's population and half of the smart phones used in the United Kingdom run on iOS, we have the right to assume that many people will very soon try and come to like Apple Pay even if its introduction was not easy in the United States and currently it runs only on a few Apple devices (iPhone 6/6 Plus and Apple Watch, iPad Air 2 and iPad Mini 3).
Infrastructure necessary for the acceptance of Apple Pay has practically been built up throughout the country, since the majority of terminals accepting chip card are also suitable for payment by contactless cards. The new contactless payment can be used at 250 000 sites, among others, including but not limited to: BP petrol stations, stores of KFC, Lidl, Marks&Spencer, Nando's, Spar, restaurants of McDonald's and Subway, and coffee shops of Starbucks. If you want to pay using application, you will be able to, for example on Booking.com, at British Airways or EasyJet as well.
The successful introduction is facilitated due to the fact that the transport company of London immediately joined those who accept it, where the contactless payment is already popular, and each tenth of the contactless transactions in Great Britain is carried out on TfL (Transport for London) network.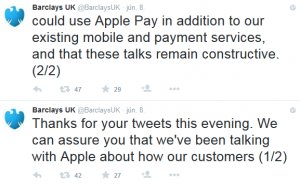 Apple Pay enjoys the support of the most popular eight banks of the country and although Barclays is still missing from the list with its 12 million clients, the bank has already communicated on Twitter that they have negotiations on the cooperation even though they have already come out with their own mobile payment service, the Pingit.
Android Pay entered the market a bit later; it started in June in the United States and is based on a fully similar principle as the above payment system, it is based on EMV tokenization service. Its advantage may be that it is not connected with a brand, but it can be used on any phones of android operation system which has NFC chip and fingerprint reading, although there are not so many of them on the market yet.
Samsung Pay (LoopPay) – in spite of the fact that in March they promised the introduction for summer at the Mobile World Congress – according to the news it will start only in September. Basic principle of the payment system will not be different, it will operate with tokenization, on the latest Samsung devices (Samsung Galaxy S6 and Galaxy S6 Edge), but compared to the other two, it has the advantage that it can also be used by "LoopPay's Magnetic Secure Transmission" (MST) technology on magnetic stripe reading terminals, therefore the number of acceptance places exceeds 30 million terminals.
The European proliferation may have the advantage that there are much more NFC capable terminals in our continent, however the slow spread of tokenization is a disadvantage, but as it is already mentioned by us, we are ready to provide services for a new generation. The innovation and mobile development team of our Printing Company will help all those interested in the introduction of mobile payment, using our experience obtained in the Mobilewallet pilot and our TSP (Token Service Provider) service that is under development.