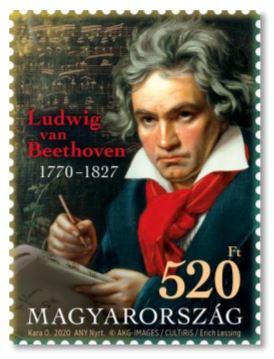 The German philatelic group, Motivgruppe Musik held an online stamp beauty contest during the summer to find the most aesthetic stamp among the music-themed stamps issued in 2020. Thanks to Magyar Posta (the Hungarian Post), the competition included two stamps produced by ANY Security Printing Company. Our stamp depicting Ludwig van Beethoven, who was born 250 years ago, was awarded by the very respectable third place, with 50,000 copies produced last year based on the designs of graphic designer Orsolya Kara.
The competition, which is held since 1980, attracted 66 stamps from 51 postal administrations and votes from 59 countries. The Croatian Post Office Mostar (Bosnia and Herzegovina) finished in first place, also depicting Ludwig van Beethoven, and the Austrian Post Office's stamp of a double bass finished second. Further placings and details are available in English on the Motivgruppe Musik website!
Thank you all for your votes!