I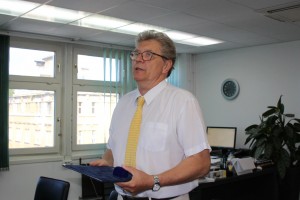 n 2019, the Hungarian Association of Printing and Paper Industry awarded Miklós Ramcsák, the employee of ANY Security Printing Company PLC, a Hess András Prize which is one of the greatest professional recognitions in the printing industry; the prize was handed over by Gábor Zsámboki, CEO.
Miklós graduated from secondary school in 1973 and then he won vocational qualification as a technical editor. The world of the printing press has played a key role throughout his life. First he worked for Athenaeum Printing Company and then for Papírfeldolgozó Szövetkezet (Paper Processing Company) as a middle level manager. He was employed in State Printing Company in 2003, and he has been working as a store manager of the Printing Company since 2006. Due to his mentality and professional knowledge, he is the key personality of our Corporation. He is a role model for many of us because of his directness and professional skills. During the time he has spent here, the Printing Company has undergone many developments that could not have been achieved without him. Nothing can prove his fidelity and loyalty better than he has been our colleague for 16 years now, and as of April 2019 he is employed by us as a pensioner; we hope that we can work a lot with him and we can count on his proficiency for a long time. He spends his spare time with his family and grandchildren.
The Printing Company's team wishes him every success and good health in the future and in the retirement years too.